About Barbara
Barbara lives on the Connecticut shoreline where she paints in watercolors and oils. Her distinctive watercolor paintings are a delightful blend of control and looseness. Her oil paintings capture the charm of the landscape en plein air while exhibiting character, mood and uniqueness. According to Barbara, "Regardless of the medium in which I choose to work, a fascination with light and a deep respect for nature continually fuel my efforts to capture the beauty of the landscape en plein air."
Initially a science teacher, Barbara has always considered art her passionate hobby. In 1983 she started studying at the Lyme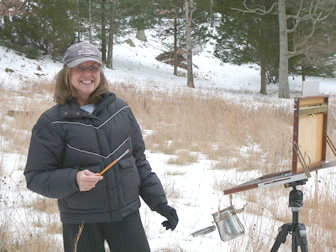 Academy College of Fine Art where she earned several scholarships. In 1987 she gained elected artist membership in the Lyme Art Association, Old Lyme, CT with her painting of a rose that won First Prize. Soon after, she attained elected artist membership in the Connecticut Watercolor Society and the Mystic Arts Center, Mystic, CT. Elected artist membership in the oldest art organization in America, the prestigious Salmagundi Club in New York City, came in 2001.
Barbara is the author of Artist's Projects You Can Paint, 10 Watercolor Tablescapes Loose and Light (2005) and a contributing artist for the book, How Did You Paint That? 100 Ways to Paint Still Life and Florals (2004) both published by International Artist Publishing. She has taught art at the Lyman Allyn Museum, New London, CT and the Lyme Art Association, Old Lyme, CT. Her Watercolors of Capri have been made into posters by Grand Image, Seattle, WA and are available online.
Barbara's paintings can be found in private collections across the USA and abroad as well as in the permanent collection of the New Britain Museum of American Art, New Britain, CT.